Product detailed description
WHAT CAN YOU BUILD OUT OF THIS SET?
Wall bars 190 cm high Ι Wall bars 250 cm high Ι Wall bars with horizontal bar Ι Inclined wall bars Ι 3D wall bars Ι Cliff - small Ι Pikler triangle - small Ι Pikler triangle - medium Ι Lucky devil Ι Counter Ι Garage Ι and many more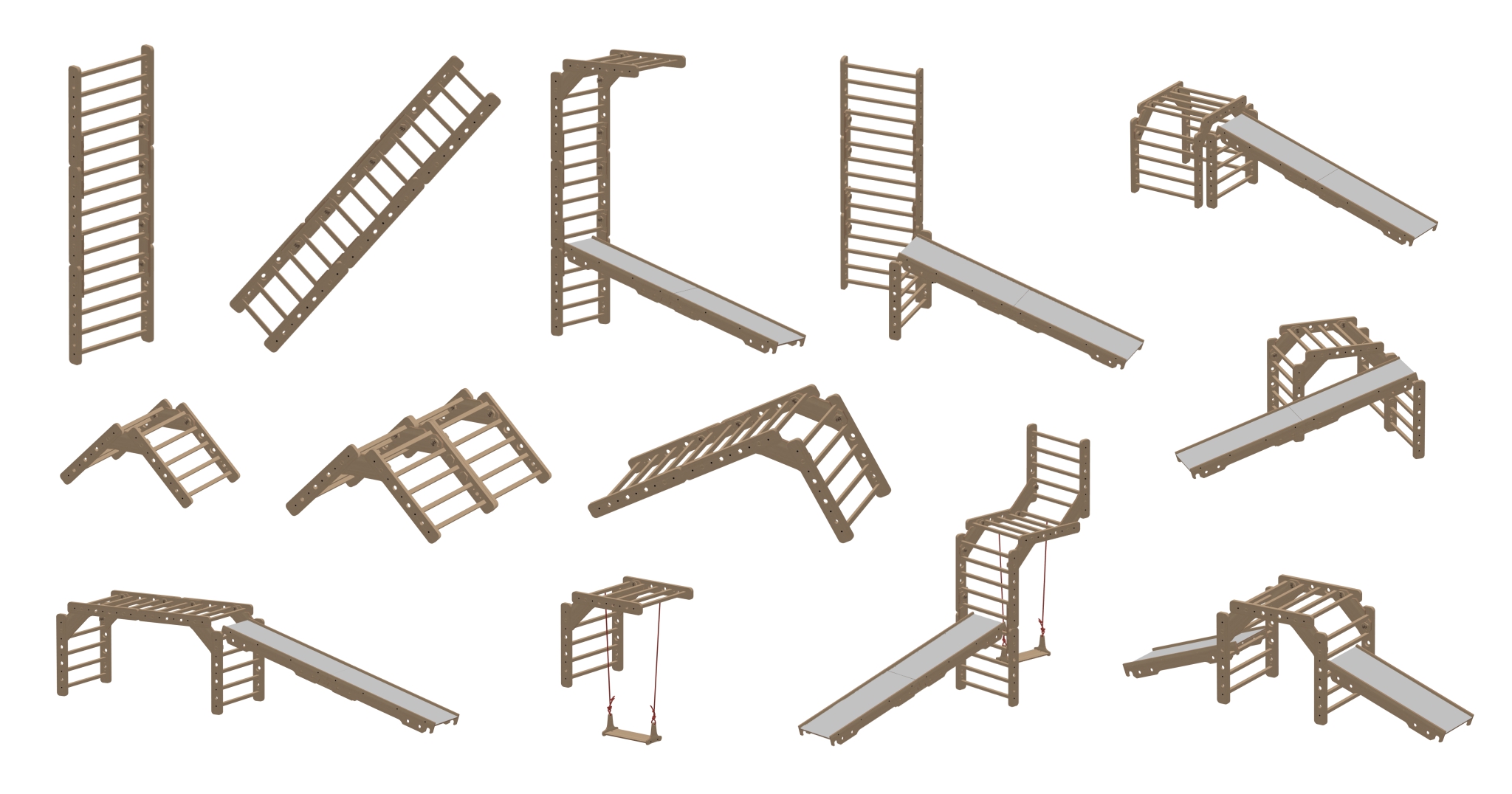 Faber 13 + teaser
At the bottom of the page you can find other suitable accessories (related products) for this set of parts.
---
CHARACTERISTICS
100% massive beech with FSC certification

mortise joints, high tensile strength stainless screws

load bearing capacity: see user manual

comply with ČSN EN 71 (Children's toys)

the weight of all components: cca 30 kg
MAINTENANCE
no specific maintenance is required

all you need is water and damp cloth
IN THE BOX
Building parts:
panel (4 pcs)

E1 connector (6 pcs)

T2 connector (4 pcs)

C1 connector (1 pc)

F1 connector (4 pcs)

W1 connector (3 pcs)

strength strap (1 pc)

wooden rod with cotters (2 pcs)

set of pins Faber (2 pcs)

bolt 50 (4 pcs)

nut Faber (4 pcs)

bolt 35 (18 pcs)

key (1 pc)
ACCESSORIES:
balance board classic (1 pc)

climbing rope (1 pc)

inclined plane (2 pcs) incl. SL1 connector with bolts
The set does not include screws to secure the W1 connector to the wall. Please make sure to choose appropriate screws for your wall.
IMPORTANT: W1 couplings must be mounted at the height of three panels with or without the F1 connector fitted, but the bottom panel must be 9 cm above the ground. If you have a three-panel wall bars on the wall without the F1 connector (elevation due to plinth), you will not attach this structure to the wall.
WARRANTY
Please read
Faber is a universal climbing frame and each part can be used for any project. Faber 13+ set contains all the parts needed to assemble any of the structures shown above. Note that it is usually not possible to build several buildings at the same time from parts available. Do you want to build more projects at the same time? Call us, we will pack the parts according to your needs.
WE RECOMMEND - Natural oil
For outdoor use it is recommended to paint wooden parts with natural oil.
The oil will protect wooden parts from the moisture (resistance) and also it will be easier to clean those parts.However you still need to avoid direct contact with water.
The oil kit can be purchased here and the instruction manual is here.
In the case of commercial use, oil is a necessity, regardless of indoor or outdoor use. We handle such orders individually and apply the oil to the parts ourselves.
LA
Luc and Anna
We ordered this set for Christmas. Our three year old is very happy with it. Assembly and reassembly is fast and intuitive after trying it once our twice and new structures can be build really easily. She's particularly happy since we put it on the wall. Important: should absolutely not get wet or moist. We stored it in the garage for a few weeks before giving it as a present and the wood was swollen so that it was very hard to assemble. The Antonieemma people were really fast to answer our complaints and even offered to come by to check the set. Fortunately after few days inside the problem solved itself and now everything can be assembled workout much effort.