rocking horse Futu - nature
Code:
1251
Related products
Product detailed description
made in Czech Republic

saddle: hand-quilted BIO leather

material: 100% beech

surface treatment: natural oil with wax

maximum load: 150 kg

weight: 2 kg rocking board, 2 kg horse Futu

construction: mortise and tenon joints, stainless steel screws

saddle height: 25 cm

comply with ČSN EN 71 (Children's toys)

in the box: rocking-board, horse body, personal name/text on request (on the saddle and on the board)

WARNING board is not water resistant

Ideal for children from 1 year and more
You can also have your own name/text on the horse saddle. The text may be different. Don't forget to hide some treasures for future generations in your time capsule.

Rocking horse Futu
It is designed to travel through time. The rocking horse never gets old, and Futu is a great example of that.
Rocking horse Futu is equipped with secret/hidden time capsule.
You can hide there some photos and a message for future owners. Sounds like science fiction to you? We think this is actually pretty cool. Can you imagine to find such a toy after your grandfather and the excitement and when opening the time capsule for the very first time?
RESHINE - dust off Futu's fur
We are ready to repair the rocking horse or give it a new shine. Just send us an email and ask for a renovation.
The rocking horse is an ideal toy from birth to about eight years of age.
How is it possible?
In the first stage you use the rocking board as a cradle. Just put on a pillow.
At the first crawling, the baby will climb his first mountain. Just turn the board upside down.
As soon as the baby sits, he can enjoy his first ride on the bouncing horse.
Are you standing? Now it is time for a real ride on a rocking horse. Such a ride will entertain them up to age of 4.
Balancing on a rocking board has no age limit.
After that, dear grandma, is time to pass Futu on :-)

And do not forget to put photos and other objects, memories from your time into the time capsule.
We will engrave the name and year of production without asking. Just note down the name you wish to be engraved when placing an order.
You will receive a rocking horse with a birth certificate, where you will find out the date and place of production and of course the name of one of us who produced the rocking horse.
Rocking horse Futu is really a perfect gift for the birth of a baby.
Every lover of pure and functional design will get excited in many ways.
How do you turn a rocking horse in a bouncing horse?
It can't be easier. Just twist screws and slide horse off the rocking board.
Slide the wheels into place instead of the board and tighten the screws. No tools required!
It does not take longer than one minute of your time.
Now you have two functional toys, a bouncing horse and a rocking board.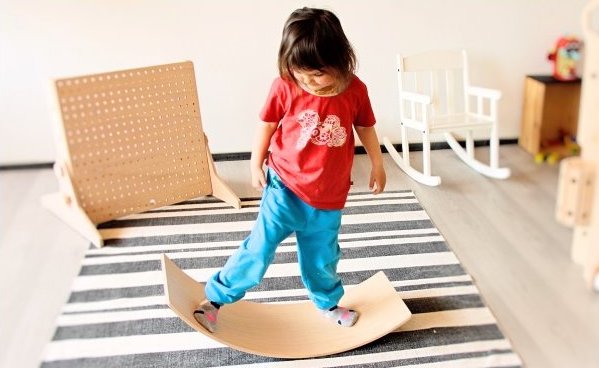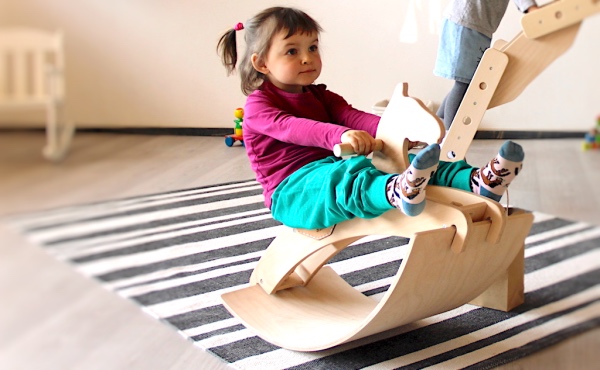 Be the first who will post an article to this item!