TALO - house kit
Code:
1644
Product detailed description
DETAILED PRODUCT DESCRIPTION
The TALO kit is synonymous with all children's hideaways, playhouses, castles for princesses and castles for dashing knights. It is a bunker for little daredevils and a secret hiding place for all children's treasures. It's a caravan and a spaceship to transport children to a world of fantasy. A world full of adventure, a world that will be theirs and theirs alone. It's just everything they want.
The TALO house kit (and subsequently our entire TALO product line) was born out of one big childhood dream to have their own space. A space that we adults used to build out of boxes, tables and chairs, out of long-unused blankets and bedspreads full of clothes moths, out of newspapers only good for kindling. And so we have turned our ancient ideas into reality and created a series of ecological and masterfully elaborated children's buildings or (if you like) parts from which the next generation can build their dreams.
You can create a plethora of buildings from the TALO house kit. You can see some of our tips in the product gallery. TALO develops children's imagination. Moreover, it is made so that even dexterous children's hands will be able to build most of the structures themselves.
HOW MANY VARIATIONS OF BUILDINGS I CAN BUILD:
With this set of parts you can build at least 6 building variants. We can think of these, but your children will certainly come up with more.
House
Cube
Big tent with small tent and flag
Two small tents
Tunnel
Mars rover
You can simply increase this number by adding more parts.
HOW THE KIT WORKS:
The main building block of the kit is the TALO wooden clutch.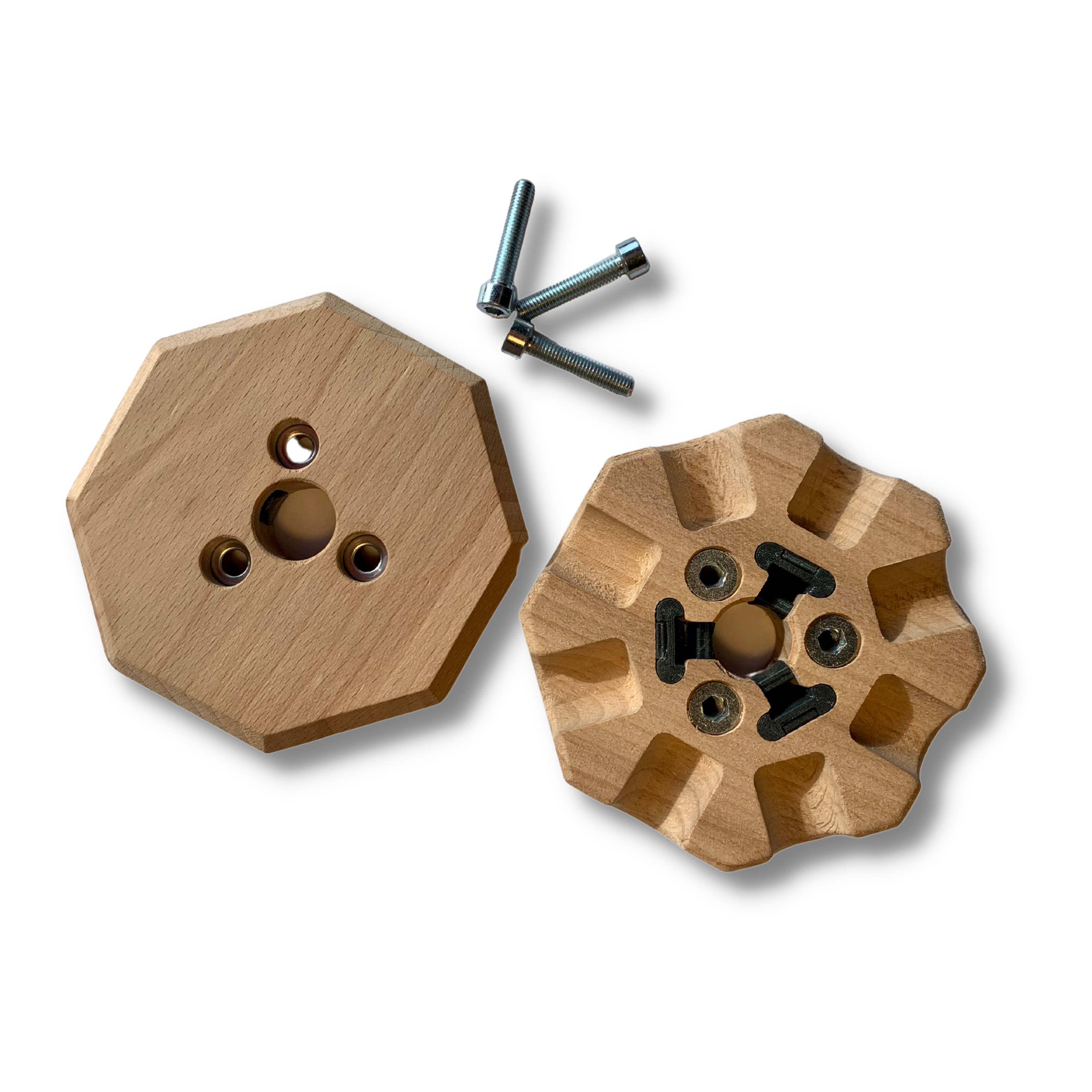 The coupling consists of two interconnected discs and three strength bolts. Together, these parts form the jaws of the vise. There are eight holes at 45 degrees around the circumference. There is one hole on each face that has a self-locking pliers hidden in it. The pincer is made from a recycled PET bottle. The coupling is loose to allow wooden rods to be inserted freely into the holes. After insertion, the screws are tightened and the whole construction is fixed and strengthened. In our experience, children from about 4 years of age can do this. Younger children need help with tightening. Tightened structures can be carried around, as they are already sufficiently stable and solid.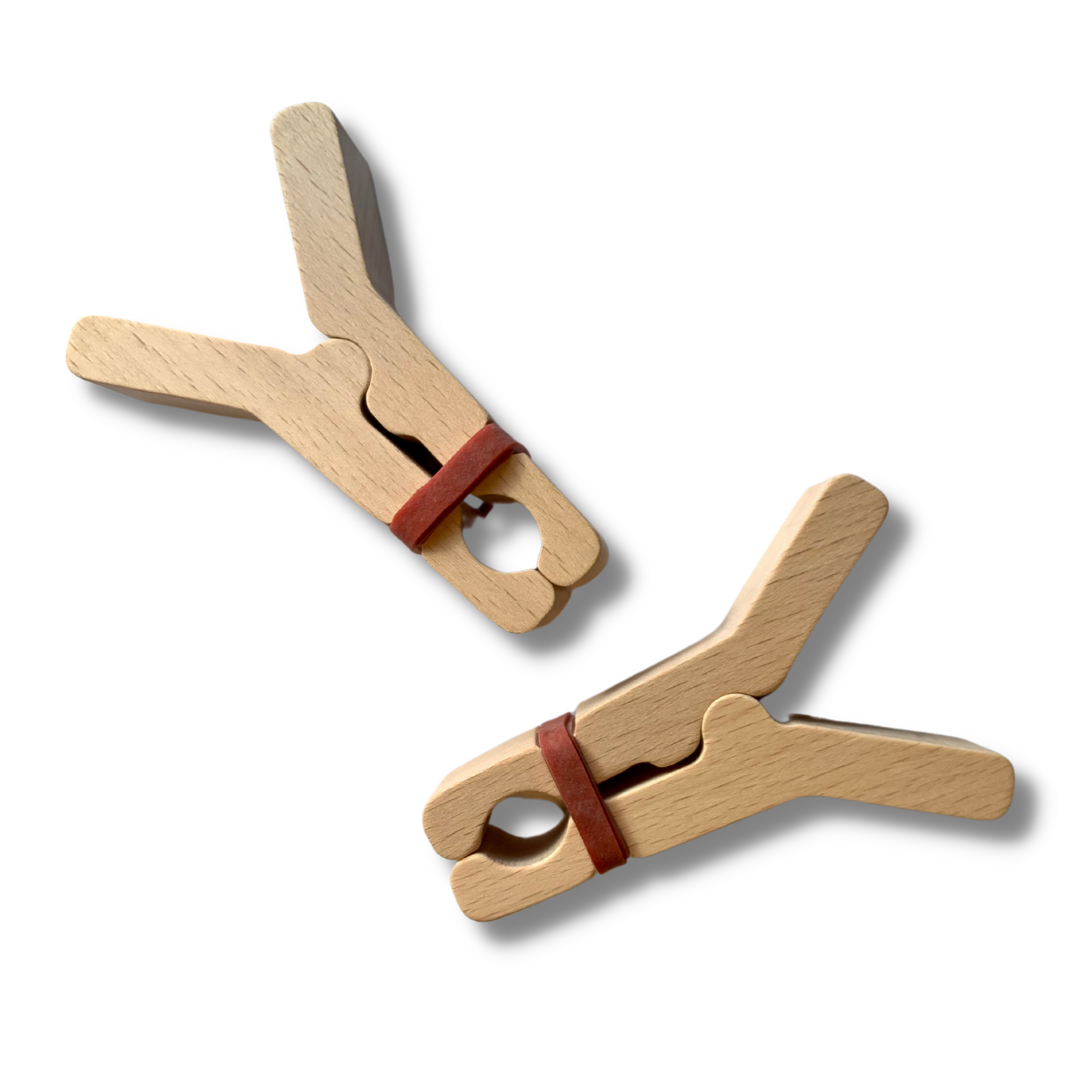 We have designed the pegs specifically for our TALO product line. They can hold bedspreads, blankets and curtains. At the same time, you can also attach paper to the poles to make flags, etc. The pegs do not leave imprints and do not deteriorate the covering material.
The rods are made of steamed beech. They are thus much straighter and more stable. The diameter of all poles is 16 mm. The ends are milled with a rake, which makes it much easier for children to slide them in. Two sizes of rods are included in this kit - 860 mm (suitable for building large structures) and 600 mm (suitable for roofs and smaller structures).
THIS SET INCLUDES:
17 rods (9 lengths 86 cm and 8 lengths 60 cm) made of steamed beech with milled notches on the faces of the rods for smoother and easier insertion into the joints,
10 solid beech wood pegs with durable model rubber,
10 special solid beechwood couplings with strength Allen screws
And soon you'll also be able to choose from amazingly sophisticated designer upholstery materials.
You can also expand your TALO kit.
TO EXPAND YOU WILL NEED:
rods,
pegs,
couplers
Be the first who will post an article to this item!